Nero Multimedia Suite Platinum HD v10.6.11800+Serial
5:21 PM |
Egy Adhitama
Tidak ada komentar
Nero Multimedia Suite 10 Platinum HD adalah sebuah paket software versi terlengkap yang berguna untuk berbagai macam kebutuhan Multimedia, seperti Burning, Editing, dll.
Tapi bagi sampeyan yang hanya membutuhkan tool untuk burning dapat sampeyan gunakan Nero 10 Micro yang filenya berukuran kecil sekitar 22MB. Tapi semua itu tentunya tergantung kebutuhan masing-masing orang, jadi kalo sampeyan butuh versi terlengkap Nero bisa sampeyan unduh melalui link dibawah.
FEATURES:
- Add Picture-in-Picture Effects Like a Pro
- Share Your Media with Ease
- Arrange Photos and Videos for High Quality Slide-
shows and Movies
- Edit and Enhance Photos with Just One Click
- Share HD Video's to YouTube.
- Digitize your analog audio cassettes.
- Create Disc covers and labels for your videos.
- Search for music clips in movies.
- Quick, Easy, and Secure Disc Burning
- Multi-track Video Editing with Complete Keyframe Handling Option
- Burn to Disc or Share to Social Communities, Slide-
shows and Movies with Unique Premium Menus
- Fully Controllable, Effective Backup in a Few Easy Steps
Minimum system requirements for Nero Multimedia Suite 10 Platinum HD:
­Windows® XP SP3 (32-bit), Windows Vista® SP1 or later (32 and 64-bit), Windows® 7 Home Premium, Professional or Ultimate (32 and 64-bit)
­2 GHz AMD or Intel® processor, 512 MB RAM (1 GB RAM for Windows Vista® or Windows® 7)
­For Blu-ray Disc Playback and HD Video Editing: Processor Intel® Core™ II Duo 2.2 GHz, AMD Athlon 64 X2 5200+ 2.6GHz or above, 2 GB RAM
­5 GB hard drive space for a typical installation of all components (including templates, content and temporary disk space)
­DirectX® 9.0 compliant graphics card with 3D acceleration, 16-bit color, and a minimum of 128 MB video memory is required (32-bit, true color, 256 MB dedicated video RAM, and support for Shader Model 3.0 is recommended)
­For Blu-ray Disc Playback: Graphics Card NVIDIA 8600 and above, ATI Radeon HD 3800 and above, Intel G45 (Windows Vista/Windows 7); Minimum 512 MB VRAM, HDCP compliant display for digital connection
­DVD disc drive for installation and playback, Blu-ray Disc capable drive for BD playback
­CD, DVD, or Blu-ray Disc recordable or rewritable drive for burning and video authoring
­DirectX® 9.0c revision 30 (August 2006)
­Windows Media® Player 9
­Third party components such as Microsoft Windows® Installer 4.5 and Microsoft .NET™ 4 are shipped with the product or automated download if not included in the package
­For some services and the use of BD-LIVE features an Internet connection is required (DSL-1000 and higher recommended). Internet connection charges are the user's responsibility
­For further requirements please check www.nero.com
Download Nero Multimedia Suite Platinum HD v10.6.11800 (2.96 GB)
Part1 | Part2 | Part3 | Part4 | Part5 | Part6 | Part7
Download Serial  Nero Multimedia Suite Platinum HD v10.6.11800
CARA INSTALLASI:
1. Install programnya
2. Masukan Serial yang ada:


3. Pilih No, thanks –> klik Next –> Install dan tunggu sampe finish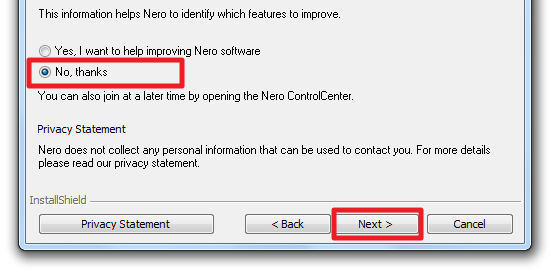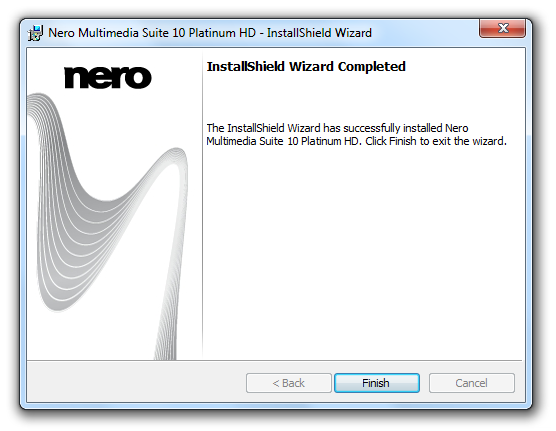 4. Restart and emjoy!!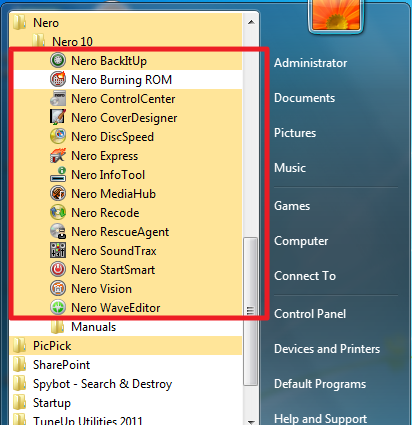 Tags:
Software